A Book For Now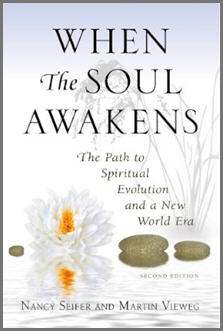 "A rare gift."
Lamar Carter, past president,
Int'l Center for Integrative Studies

≈

"Sends a message of joy and hope
to the soul."
Llewellyn Vaughan-Lee,
Sufi teacher and author

≈

"One of the most important books
   I've ever read. 
Everyone should read it."
Tony Haas, author

"When the Soul Awakens is a wonderful and deeply spiritual book.  With every word you can feel the love and wisdom of the authors uplifting the spirit and renewing our faith in the universal spiritual path."

~ Dorje Jinpa         
Author, SENSA:       
   The Lost Language of the Ancient Mysteries         


♦ 
  ♦     Silver Winner   ♦  
•   Nautilus Book Award
•   Independent Book Publishers Association Award
The Ageless Wisdom offers insights into these times that you will not find anywhere else.  It reveals the intelligent plan underlying the evolution of consciousness and explains the critical turning point at which we now find ourselves.
As we move from an age of darkness into an age of light, When the Soul Awakens is an invaluable guide.  The aim of this book is to share the light of the wisdom teachings—the essential truths of the spiritual path—with seekers everywhere.


See also: