Home Page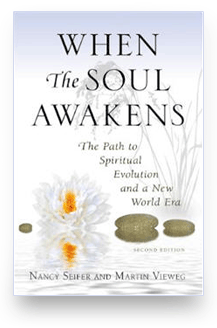 From the start of this year, there have been signs of a new spirit moving through the lives of people across the globe. Those attuned to subtler energies have spoken of feeling as if they were 'swimming in a sea of lighter substance' in the wake of the galactic alignment of 2012. Less attached to the dying systems of the material world, they are more aware of spiritual forces acting in their lives.
With the dawn of the Age of Light—as the new age has been called—one can sense the first stirrings of a time when the Soul will enter the foreground of human living. As predicted by the Ageless Wisdom, the birth of our collective Self will eventually give rise to a civilization infused with spiritual light, love and intelligence. Through the eye of the soul, we can already begin to glimpse what lies on the horizon.
Our website is an outgrowth of this time of transition into a new age. It was launched with the 2008 publication of When the Soul Awakens: The Path to Spiritual Evolution and a New World Era. In these past five years, many of the developments forecast in the book have become visible in our world.

A rich collection of articles has been assembled here during that time. Numerous writers sensitive to the Great Turning of the Wheel of Evolution have contributed to it. This site has become a hub for a gathering wave of souls from over 80 countries who are seeking to comprehend 'the shift of the ages' in the light of the Ageless Wisdom. We invite you to join us.
To explore the contents of this website, you can click on the menu tabs* on the left, visit Latest Postings, or go to the Site Map, which will link you directly to each of the web pages. Throughout these pages you will find extraordinary art and imagery evoking the times that lie ahead. We hope these diverse expressions of the soul and evocations of the new world will serve you in these critical, yet increasingly light-filled, times.

Nancy Seifer and Martin Vieweg
February 2013
* Please note: Every menu tab to your left is a webpage, as are the sub-menu items that appear next to it when you place your cursor on a menu tab.